Lesson 1 1 Chronicles 29:10~14 God's Sovereignty - Believe in God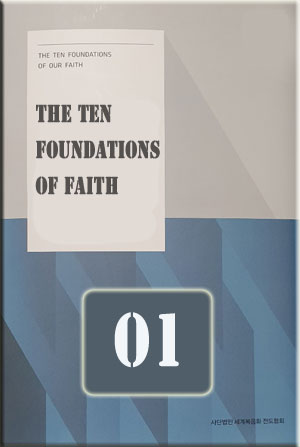 [Introduction] Restoration of faith
1. Restore the faith of believing in God's sovereignty.
1) When problems come, pray to find what God's plan is.
2) Make the confession of faith of entrusting all things into God's hand.
3) The moment we believe, the Holy Spirit works and answers.
4) God is with us always to the end of the age (Matthew 28:20)
5) The prayer of faith wll absolutely be answered.
(1) Luke 18:38-42
(2) Matthew 8:5~13
2. Unbelief is like cancer.
1) Job 3:35
2) 1 John 4:18
3) Unbelief can lead to physical diseases as well.

[Main] God's sovereignty
1. What kind of sovereignty does God have?
1) Creation, providence, decree - God created the heavens and the earth;
He provides and moves all things.
2) Life - He governs every person's life.
3) History - He rules over all of history.
4) Fate, future - He directs the course of everyone's fate and future.
2. What kind of faith must be restored?
1) God's power is unlimited (Isaiah 40:27-31).
2) God's Word is being fulfilled even now.
(1) Isaiah 40:8
(2) Hebrews 4:12
(3) Matthew 5:17-18
3) God opened the perfect way of salvation.
(1) Genesis 1:1
(2) Genesis 3:15
(3) Genesis 6:14
(4) Messiah, Christ
-Jesus is the who came to the earth as the Christ; the true King, the true Prophet, and the true Priest.
4) God leads the saved to the very end.
(1) 1 Peter5:7-8
(2) Do not have unbelief even when facing extreme circumstances.
(3) God can do all things.
(4) God absolutely answers prayers of faith.
(St. Augustine 354-430, - his mother's prayer)

3. Even though unbelief may not seem like much, its fruit will be borne throughout the coming generation.
1) Bible - fruits of unbelief
(1) Abraham's fruit of unbelief was Ishmael. Ishmael's descendents are the present-day Muslims.
(2) The fruits of unbelief, the Edomite and Moabites
2) Church history
(1) King Herod built the temple of Jerusalem out of unbelief.
(2) The Pharisee church
(3) The Medieval church
(4) Experienced great hardship as a result of falling into unbelief.
3) Do not find Jesus Christ and salvation, which is the Gospel, believable.
4) if you do not find the fact that God is with you believable, then prayer does not take place. If you do not pray, then you cannot receive answers to prayer.
5) What is even more frightening is a person whose nature is set in unbelief(spiritual problem).
(1) Whatever the incident, they cannot see with the eyes of faith.
(2) In spite of being saved, they have unbelief and deceived by Satan.
(3) 1 Peter 5:7~8
(4) 1 Jojn 4:18
(5) Uproot unbelief which is just the same as cancer. This is the start of disciple training, the walk of faith, and the Gospel movement.
(6) 1 Peter 3:8~12
6) Beware of positive thinking attitude.
(1) What is far more superior than positive thinking is God's power.
(2) It is important to accurately know our status and authority.
(3) Because we have received everything, all we need to do is pray and enjoy.
7) Beware of unhealthy experience. Everything is inside of the Gospel and God's power.

4. The people of faith who believe in God's sovereignty
1) People in the Bible
(1) Genesis 22:1~19 (17~18 historic answer)
(2) Genesis 39:1~6
(3) Daniel 1:8~9,3:8~24,6:10
(4) The Early Church - countless martyrs
2) George Muller (1805~1898), John Wesley (1703~1791), Dwight Lyman Moody(1837~1899), pastors who opposed worshipping Japanese shrines during the Japanese occupation of Korea.
[Conclusion]
The faith and content of the Early Church
1. Experience
1) God created everything and rules over all thins.
However, we cannot meet God.
Therefore, God opened the way for us to meet Him.
The way is Jesus Christ.
2) We receive answers when we pray in the name of Jesus Christ.
3) When we experience the problems of our family line, poverty, discord, spiritual problems and all our problems being solved in the name of Jesus Christ, great doors will open wherever we go.
2. Confirm
1) God called us as evangelists who have the Gospel.
2) Prayers of the sick - will be able to discover God's special plan.
3) Confirm that God's plan is hidden within spiritual problems and physical problems.