Lesson 7 Psalms 139:1~8 God's Governance - God Reigns over Life, Death, Curses, and Blessings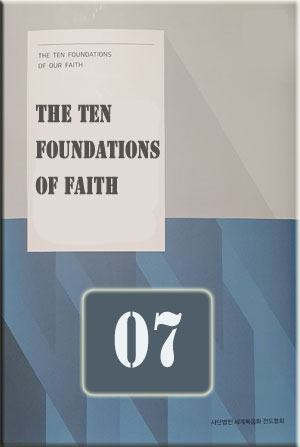 [Introduction] What you must be most cautious of in your walk of faith is unbelief.
1. Words
2. Action
[Main] Restoration of faith
1. The faith to survive in any situation (environment) (Isaiah 6:13) - vessel
1) The forefathers of faith survived even in situation that threatened their lives.
(1) The crisis of losing their nation.
(2) Pressure from false prophets.
(3) Threats to life
2) A great cloud of witnesses are before us (Hebrews 11)
(1) Patriarchal age - Abraham, Joseph, Moses, Joshua
(2) Age of kings (captivity) - Daniel, Shadrach, Meshach, Abednego, Esther
(3) New Testament - John the Baptist (cried out in the wilderness about Jesus' coming)
(4) The Early Church
3) You will fail if you have unbelief.
(1) Achan, Korah, Balaam - unbelief that had no choice but to be cursed.
(2) Acts 11:1~18 - unbelief with remainders of legalism
(3) Acts 5:1~10 - Ananias and Sapphira (humanism)
4) Our faith
(1) The faith unto salvation
(2) The faith of believing in God's power
(3) The faith in God who governs all aspects of our lives
(4) The faith of knowing the Lord of life
2. The faith to fight the spiritual battle
1) Physical battle
(1) The Pharisee church (legalism, deeds)
(2) The Medieval church (religiosity)
(3) 18th~19th century - God raised the Gospel movement through the missions organizations outside of the church.
(4) 20th century - non-church movement
(5) Physical battles block God's blessings
⓵ 1 Corinthians 3:1~3 - young child (childish)
⓶ Romans 16:20 - "The God of peace will soon crush Satan under your feet. The grace of our Lord Jesus Christ be with you."
You must choose faith and discern based on faith whatever situation you may be in. God's blessings will accumulate upon the vessel of faith.
2) The faith of fighting the spiritual battel
(1) You can succeed when you know how to fight the spiritual fight.
⓵ Matthew 12:28~30
⓶ Matthew 4:1~11
⓷ Ephesians 6:12
⓸ Acts 13:1~2 (sorcery), 16:16~18 (divination) 19:8~20 (culture of idolatry)
(2) People who know how to fight the spiritual battle can also fight the physical fight properly
⓵ The good fight
⓶ Victory without fighting
3) Results
(1) Prayer will take place
(2) The eyes to see the field will open
(3) Devotion to the church will change
3. The faith to do world missions
1) Saving your surroundings is evangelism
(1) People who are saved will taste God's blessing
(2) Other people are bound to see the blessing
(3) That is when you become a witness
2) What saves the region is the church
(1) The church that gathers and the church that scatters
(2) Local church and Para church
(3) Church - the saved individual, gathering, field, sanctuaries and Heaven
3) Saving other nations is missions
(1) More than half of the world's population have not yet heard the Gospel
(2) What is more frustrating is that there are many church members who attend church yet have not heard the Gospel
4) You must have faith
(1) Have faith to commission missionaries
(2) Have faith to give missions offering
[Conclusion] Class
1. Be classy people in the eyes of unbelievers
2. Potiphar looked at Joseph and saw that the Lord God was with Joseph.