Lesson 9 Luke 16:19~31 God's Judgment - The Afterlife Clearly Exists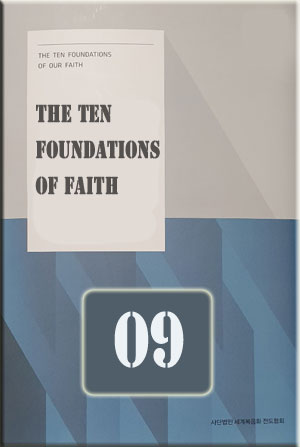 1. Choice - salvation (Heaven)
1) Eternal - God, soul, Heaven, Hell
(1) Meeting the eternal God - salvation
(2) Believing in the eternal Word of God - faith
(3) True purpose of salvation is to go to the eternal world
2) Psalm 90:10~12 - "The years of our life are seventy, or even by reason of strength eighty; yet their span is but toil and trouble; they are soon gone, and we fly away. Who considers the power of your anger, and your wrath according to the fear of you? So teach us to number our days that we may get a heart of wisdom."
3) Revelation 20:1~22:18 - prepare the eternal and new world
4) John 14:1~4 - "Do not let your hearts be troubled. Trust in God; trust also in me. In my Father's house are many rooms; if it were not so, I would have told you. I am going there to prepare a place for you.
And if I go and prepare a place for you, I will come back and take you to be with me that you also may be where I am.
You know the way to the place where I am going."
5) Thanksgiving - a child of God overflowing with thanksgiving for the hope of Heaven.
2. Heaven and Hell
1) Heaven - the place where God's forgiven child goes
(1) God sent Jesus Christ, forgave all our sins and guides us to Heaven
(2) 1 John 5:11~13
(3) 1 Corinthians 12:3
(4) Romans 5:8
2) Hell - the place where those whose sins (original sis, actual sin) are not forgiven go
(1) Matthew 25:41 - Those who serve the devil go to Hell
(2) John 8:44 - "Your father the devil"
(3) John 16:11 - "concerning judgment, because the ruler of this world is judged."
(4) 2 Corinthians 4:4~5 - god of this world
(5) Separated from God, people have no choice but to live enslaved to Satan in the midst of failure and suffering
(6) These problems will be passed on to the next generation.

3. Dead person's wish - for the descendants to not worship evil spirits
1) Problems regarding the dead - are all the tricks of evil spirits
(1) Demonology - theory that people become demons when they die
(2) Reincarnation - theory that people are reborn after death
(3) Ancestral rites - misunderstanding that ancestral rites must be observed because parents return as evil spirits after their deaths
(4) Divination - fortune telling by invoking dead person
2) Dead person's wish (Luke 16:19:31)
(1) The desire of the rich man who died and went to Hell
(2) For his five brothers to not come to Hell
(3) Luke 16:27~28
3) Not only physical assets, but spiritual inheritance will be passed down as well.
4. our background prior to going to Heaven
1) Unbeliever - background of hell
(1) 6 states of the unbeliever - lost in the Genesis 3 problem
(2) Fate - the law of sin and death (Romans 8:2)
(3) Satan is the master of their lives
2) God's child - background of Heaven
(1) Philippians 3:20 - "But our citizenship is in heaven"
(2) 7 blessings
(3) 5 assurances - assurance of salvation, answered prayer, victory, guidance and forgiveness of sins
[Conclusion]
1. Ephesians 2:1 - past problems solved
2. Ephesians 2:2 - present problems solved
3. Ephesians 2:6 - future problems solved
4. Our background is heaven