Lesson 6 Acts 18:1~4 God's plan - The Field is the Mission Field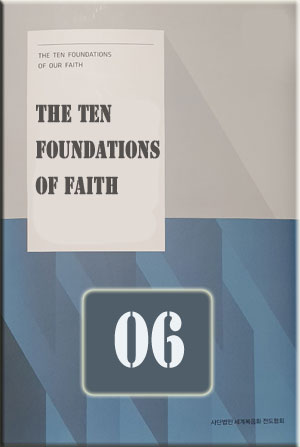 1. Your surroundings are the mission field
1) You, yourself, are the missions field - You are the most important missions field.
(1) Must have assurance concerning yourself.
⓵ Assurance - assurance of being a saved child of God
⓶ Blessing - blessing of being God's child
(2) Must have the solution concerning yourself.
⓵ Vision - If you receive grace through the Word, vision will be given.
⓶ Personal life history - your life history will all become beneficial and the entire past will become a springboard.
⓷ Consuming passion - will turn into God's desire
(3) How must you have the field regarding yourself?
⓵ The mystery is prayer - until prayer takes place
⓶ Thought - connect all thoughts to prayer
⓷ Self-pride, self-identity, self-positiveness - self-pride, not arrogance, self-identity as a child of God, and the self-positiveness one who can do all things in Christ, will appear.
(4) Self-management - habit of making schedules (study, prayer, evangelism time-schedule)
2) The family is the missions field
(1) Family pastoral ministry - pastors must do family pastoral ministry as well
(2) Family evangelism (missions) is also important
(3) Understand the family
⓵ Understanding the background - background in which one was raised
⓶ Understanding the heart and mind
⓷ Understanding the lifestyle
(4) Healing - If you understand the family, healing will take place
(5) God's plan - You will come to know that God has amazing plan for your family.
(6) Love + mission - the Christian family has great mission founded on agape love.
(7) If there is still no change despite consideration and undetstanding for the other person, God will take responsibility and bless.
The greatest springboard for evangelism is yourself.
The greatest springboard for world missions is the family.
2. Every field you go to is the missions field.
1) Every field is the missions field.
(1) Difficult situation - Joseph (slavery, prison) had victory in every field he was placed in.
(2) Conflicts - you must be victorious in the place you are in order to be victorious in other places as well.
(3) Place where things are not working out - the more things are not working out, the more you must return to the basics, principles and the Gospel without being deceived.
2) 7 types of people in the field
(1) People who have not heard the Gospel
(2) People who misunderstand the Gospel
(3) People who have heard about only the outer form (physical appearance of the Gospel)
(4) People who have spiritual problems
(5) People who are suffering from mental problems
(6) People who facing difficulties because of family problems
(7) People who appear to be successful yet have hidden problems
3) What must you do? - 20 evangelism strategies
(1) Connect all things to prayer
(2) Make them into your prayer
(3) Life (consuming passion) - If you have the consuming passion, then you will be able to continually go to the field.
3. Your work and workplace are the missions fields.
1) Incidents - God works through incidents.
(1) Genesis 14:14~20 - Abraham (war - blessing)
(2) Genesis 31:1~55 - Jacob (blessing of wealth)
(3) Genesis 41:1~38 - Joseph (incident - dream)
(4) 10 miracles through Moses (Exodus 5:1~12:46), miracle in the wilderness
(5) 1 Samuel 17:1~47 - an incident that had nothing to do with David occurred.
(6) Captivity - Daniel and his three friends
(7) The Early Church - Acts 3:1~12 (crippled man), 8:4~8 (Samaria), 19:12
(8) Japanese occupation - God worked through the people who opposed worshipping Japanese shrines.
(9) Communism - God saved Korea that had Gospel.
(10) Age of disasters - God works through the people who have the Gospel.
2) Three important missions fields
(1) Skill missions - God works upon all the work that the evangelist does.
(2) Regional church - God works upon all the places where the evangelist is.
(3) Lay people missions - God works upon all the people whom the evangelist meets.